Central Air Conditioning in Amarillo, Pampa, Canyon, Borger, Hereford, Dumas, Perryton, Dalhart, Fritch, Panhandle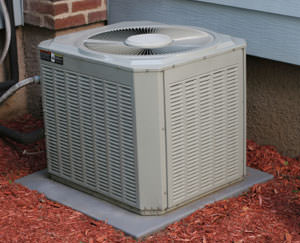 A split system. A conventional central air-conditioning system consists of an outdoor unit and an indoor unit, connected by pipes that carry a refrigerant compound.
Central Air Unit Repair & Installation in Texas
A central air conditioning system relies on a refrigerant to "pump" heat from inside your house to outside. When the refrigerant compound is allowed to expand and change from a liquid into a vapor, it gives up a great deal of heat -- just like perspiration does when it evaporates from your skin. The evaporator coil in the HVAC system is cooled by this phase change. A blower in your central air conditioning system's air handler forces warm interior air through the evaporator, cooling it before it enters the ducts that distribute the air throughout the house.
If your central air conditioning unit is more than 12 years old, replacing it with an ENERGY STAR® qualified model could cut your cooling costs by 30%. Dr. Energy Saver Amarillo can provide a free air conditioning estimate for replacing and installing an old, inefficient system with advanced equipment that will save energy and improve interior comfort.
These days, air condition systems with a SEER of 16 or more are considered very good. 21 SEER systems are about the highest you can get these says. An air conditioning unit that is 12 years old or more, may only be 10 SEER or less. This means you can cut the amount of electricity you use for air conditioning in half just by making this upgrade alone! When you combine an air conditioning upgrade with other measures to save energy such as air sealing the house, adding insulation, sealing and insulation ducts, and a radiant barrier in your attic; you are saving big and making your home more comfortable! Dr. Energy Saver can accomplish this in your home!
AC Repair & Replacement in The Panhandle
Now is the time to replace or repair your old unit and install an efficient and high-quality central air conditioner. We proudly install central ac in Amarillo, Pampa, Canyon, Borger, Hereford, Dumas, Perryton, Dalhart, Fritch, Panhandle, Friona, Spearman, Hartley, Canadian, Claude, Channing, White Deer, and the neighboring Texas cities and towns.
Many homes with central air conditioning have a standard "split" system —an outdoor unit that rests on a concrete pad, and a separate indoor unit that's connected to the ductwork system.
The interior part of a central air conditioning system will include a drain line for the moisture that condenses out of the interior air as it is cooled.
The heat pump cycle can be made to work in reverse, providing heat to interior spaces rather than cooling. When hot weather ends and the heating season begins, a dual-mode heat pump can reverse the refrigerant cycle and begin to warm the air that is blown through your ductwork system. Heat pump systems that supply heating and cooling work best in climates with mild winters.
We are your trusted air conditioning contractor and proudly install and repair central air conditioners in Canyon, Pampa, Amarillo, and other areas in and around Dumas, Hereford, Borger, Dalhart, Fritch, Panhandle, Perryton, Friona, Spearman, Hartley, Canadian, Claude, Channing, White Deer.
Start Improving Comfort and Save Money with an AC Repair or Upgrade.
In addition, we offer a home energy audit to diagnose all energy wasters and areas that may contribute to any energy issues or discomfort. Once we discover the areas of your home that need improving, we will provide a free air conditioning repair estimate or quote for replacing your current system and installing an energy-efficient central air unit.
Looking for a price? Get a no cost, no obligation free estimate.