Energy Recovery Ventilator Systems Expertly Installed in Amarillo & Throughout The Panhandle
Maintain healthy indoor air quality with a proven air-exchange system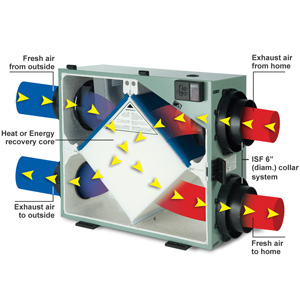 Balanced ventilation. An Energy Recovery Ventilator (ERV) is a fan-powered device that exhausts stale indoor air to the exterior, while pulling in an equal volume of fresh outdoor air. Image supplied by the Imperial Manufacturing Group..
Does your house need an Energy Recovery Ventilator (ERV)? If your home has been air-sealed to improve comfort and energy efficiency, then it might be a good idea to have an ERV installed to ensure healthy indoor air quality.
As The Panhandle's experienced HVAC contractor, Dr. Energy Saver Amarillo provides a variety of heating, air conditioning and indoor air quality services. Contact us today for a Free Estimate to install an energy recovery ventilation system in your home. We serve Pampa, Amarillo, Canyon and surrounding Texas areas.
Out with the bad air, in with the good
Leaky, inefficient buildings have plenty of uncontrolled air exchange through gaps, cracks and openings that provide pathways for air infiltration and air exfiltration. But in an energy-efficient home that has a tightly sealed "building envelope," indoor air can easily become stale, unpleasant and even hazardous when odors and pollutants become more concentrated.
Your ERV transfers heat and humidity for energy savings
An ERV helps to maintain healthy indoor air quality by exchanging stale indoor air for fresh outdoor air. But there's more. The heat exchange core of an ERV is designed to precondition the fresh air that enters the house from outside. On a hot summer day, stale interior air that is cool and dry (thanks to your air conditioning system) passes closely by the incoming air stream, separated by thin membranes in the core. The close proximity of the crossing air streams enables the outgoing air to cool and dehumidify the incoming fresh air. As a result, your air conditioning system doesn't have to work as hard to condition this fresh air.
Enjoy the benefits of an ERV: Higher comfort & efficiency, lower utility bills and healthier air quality
It's not easy to transform a leaky, inefficient house that's uncomfortable and expensive to heat and cool. Our technicians are trained to identify building deficiencies and design a customized plan for your home. We can measure your home's air exchange rate and install an ERV if necessary. We'll work with you to ensure the best-possible results: a healthy, comfortable home with lower operating costs.
Call us or contact us online to request an installation estimate today!
Looking for a price? Get a no cost, no obligation free estimate.